Holiday Park Sole Mio – situate directly at Lake Como
Detached bungalows at Lake Como
The large park area of 40,000m2 contains just 34 bungalows, all detached. The whole park is very spacious and peaceful.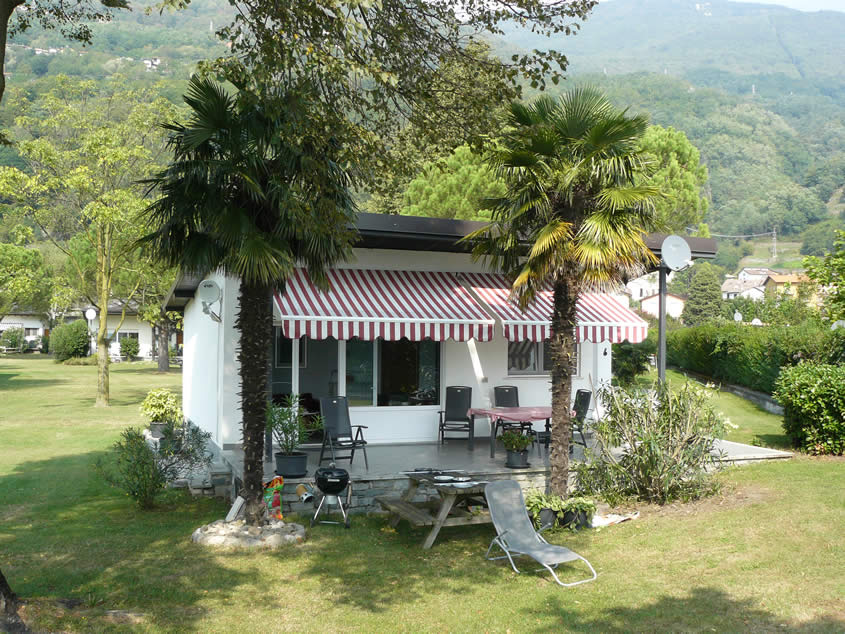 Nearly all bungalows are located in the shadow of one or more large trees, but plenty of sunshine remains for those wishing to take a sunbath on the patio. Because of the large open spaces, the Park is ideally suited for children. The sandy beach and shallow waters close to shore make it ideal for small and large children alike.
The distance to the lakeshore varies between 30 and 150 meters depending on the bungalow. There is no traffic in the park, no road to cross to get to the waterside. A long-distance pedestrian cornice passes along the Park and connects all the way to Domaso and beyond, ideal for walking and cycling.
The detached bungalows are well equipped and comfortable. A living room and kitchen, often connected, two or three bedrooms, bathroom with shower and toilet. Indispensable is the wide sun patio with table and comfy reclining chairs and sunshade or parasol.
Furthermore there is a wooden picnic bench on the lawn where you can enjoy breakfast, lunch, afternoon tea, or supper.
The large bungalows are suited for 6 persons while the smaller ones have a capacity for four. Children of up to two years of age do not count in this regard.
All properties are privately owned, and therefore have somewhat individual styles. As a result, they are not all identical, but all of them meet the high quality standards set by the Cooperation. A quality check is being done on a yearly basis.
The kitchen comes with a gas-fired stove, oven, microwave, dishwasher, fridge, water kettle, coffee machine, and plenty of dishes and utensils.
All bungalows have a flat screen television set with a satellite decoder offering plenty of channels; there is also a DVD player.
Each bungalow has its own free wifi connection, for computer, tablet, or mobile phone.
Depending on the type, the bungalows are suited for 4 or 6 persons (with a maximum of 2 children up to the age of 1 year are not counted in this regard).
Only in pre-season or post-season times is it allowed to bring up to two pets in some of the bungalows. Further details can be obtained from the Sole Mio rental agency.
All bungalows have central heating, which guarantees a comfortable stay also in Spring and Autumn.
An extensive collection of folders with information about the Park, Gera Lario, other local villages, hiking trails, car trip suggestions, shopping and restaurant tips can be found in every property.
Smoking is not permitted in any property on the Park
This type of bungalow has a maximum capacity of four persons, and has two bedrooms. All of them come with a large outside patio with garden furniture
The following bungalows are of the 4p type: nr. 2, 4, 6, 7, 8, 9, 10, 11, 12, 14, 15, 16, 17, 20 23, 29, 31, 32 en 33.
The map of the Park shows you where each one is located.
Rental prices for a 4p bungalow start from euro 430 per week.
This type of property has three bedrooms, suited for a maximum of 6 persons.
The following bungalows are of the 6p type: nr. 1, 3, 13, 18, 19, 21, 22, 24, 25, 26, 27, 28, 30 en 35.
The map of the Park shows you where each one is located.
Rental prices for a 6p bungalow start from euro 490 per week.